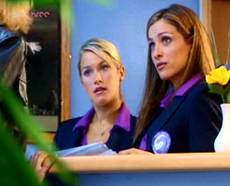 With Claudia learning of another of Stevie's fiancée's!
5.4 [232] The Decider (07/10/01)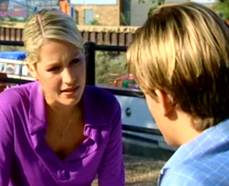 Celebrating brother Gary's debut for the First Team
5.5 [233] Situation Vacant (14/10/01)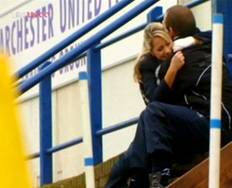 Safe with Stevie, after escaping danger from Linton
5.29 [257] In The Name Of The Father (14/04/02)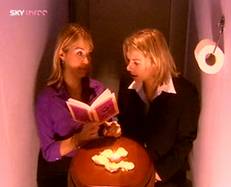 Casting a love spell with Sandra, all for Mr. Wallis
6.22 [282] Signs and Wonders (09/03/03)
Nikki gets an eyeful of Phil!
6.27 [287] 48 Hours (13/04/03)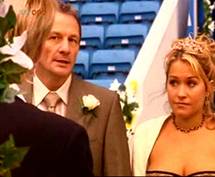 Married to Jeff!
7.18 [310] Enter The Dragon (01/02/04)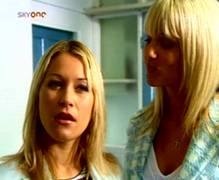 Undermined by Tash... again!
7.27 [319] In His Hands (04/04/04)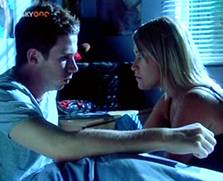 Last days with Lee

8.3 [327] Last Exit to Harchester (31/10/04)


How did your casting for Nikki come about?
Basically I was filming a show called "Goal", and I met some of the crew and some of the people who worked in the production of Dream Team, and they were casting for this character. So I told my agent, went for an audition, had a recall, and that was it. It was very word of mouth which happens quite often when going for parts in film or TV.

I read in an interview you did with harchesterunited.org that you lived with Frances Ruffelle (Dawn Spears) while you were doing Dream Team?
Yes I did, it was really lovely. For about three-and-a-half years, we had really good fun. We started together on Dream Team, on Series 5, and was living round the corner when I broke up with the guy I was with. And Frances was "OK, Move in with me!"

Interesting about you living with Francis, I didn't recall the two of you having much screen time together. Although Nikki played a big part in rescuing Claudia after she'd been kidnapped by Dawn...
We didn't really, but what happened was - I had my second recall and was waiting to hear whether I'd got the part, and I was introduced to Frances at a party. She'd been offered her part already and she said "I really, really hope you get it". And we stayed in contact from then, it really is a small world! We met and were talking about the auditions before I got the part.

Nikki's friendship with Claudia (Georgia Zaris) was great. It had that element of poor girl/rich girl to it, like they were from two different worlds... despite a few hiccups along the way, it worked.
Yeah definitely, she's brilliant, Georgia. Really good personality, lovely girl, we had a really good laugh doing all those scenes.

As for her luck in relationships, it never really went that well for Nikki did it?
I know! Poor Nikki (Laughs) she was very unlucky wasn't she?! Everything went wrong for her. She was always crying or had some trauma going on didn't she?

Getting back on track with Stevie only for him to die...
I know, and like all the scenes I had there was always something terrible in store for her. I remember I got a really bad frown line in between my eyebrows from scenes where I was always crying or getting upset!

Another was with Phil (Neil Jackson) I remember that infamous first date they tried to have where he appears naked in front of her on the pitch. Did Neil really have to stand in front of you nude for that scene?
That was really funny. He didn't for me. When they filmed he had to be naked for the scene, but when they cut to me, because they were only using one camera, they did his shot and then came back to me. But I know the crew saw him in full glory! Neil's great - he's one of those guys who doesn't give a damn about anything, he wasn't shy!

It looked like the middle of winter too, when it was filmed...
It was, I remember it was freezing cold. One thing you'd film all those football scenes in the stadium - oh my gosh! You used to get absolutely freezing. We used to be sat there in the stadium seats quivering. Not so glamorous side of being an actress!

Still on the relationship side, Nikki's relationship with Lee (James Watts) was very electric. Both sides like how she was his agent and then secret girlfriend...
It kind of all got a bit weird then didn't it, there was the thing with Jeff [marrying him] and then what happened with Lee, was all a bit weird!

I did think there was great chemistry between you and James during those scenes...
He's a great actor, really great guy. The thing is you're spending so much time with these people, so you get really comfortable and build up relationships with them. I think that's what makes good chemistry and good scenes. You're literally on set all day, seven in the morning to 7PM, so spend so much time hanging with each other, it's good.

I thought it was great how Nikki evolved professionally during your time with the show. I thought 'Business Nikki' when she became an agent was a wonderful move...
I really enjoyed doing that, she kind of became much stronger because she'd been through so much in her past. It's like "What doesn't kill you makes you stronger". She had to be feisty being an agent, she seemed to have that feisty side in her I think. It was really nice, instead of just being the girl working in the office, to be someone more important.

I remember there was a beautiful scene when Tash (Angela Saunders) returned, and when they'd known each other previously, Nikki was lower down the ladder from Tash. But now as an agent, she knew Tash was coming home, so Nikki went and put lipstick on and was waiting with a glass of white wine especially for when Tash walked in...
That's right! (Laughs) I forgot about that. That was brilliant wasn't it? The way the writers came up with the ideas, just brilliant.

Just to make an effort of looking sophisticated...
Exactly! Trying to be all sophisticated...

I think out of Dream Team's female characters there was you as Nikki, Alison as Lynda, and Angela as Tash that went on the biggest journeys professionally. Most likely due to the writers, and you as actresses' years of dedication to the characters.
Yes, that's a very good point actually. It was so much fun doing Dream Team. Those four years were just brilliant, you meet so many people and do so many different things. It was just such a good time in my life. It's a shame it isn't on anymore isn't it?

Definitely. Or on DVD, but what with the upcoming release of a 'Brookside Best Of' for the first time, you never know what the future will bring
That would be nice wouldn't it. Or for them to bring it back, that would be fun.

A lot of people would like that to happen, because it's not been forgotten. It's very much alive online
Exactly, people are still talking about it aren't they. You never know they might bring it back, so many other things have reunions or comebacks don't they? Not just TV shows, but pop bands too - my friend Lisa is in Steps, and they're having a great time being back again. I went to see the show at the O2 and it was packed, really good atmosphere and a great show.

That's good to hear they're making a success of it... Onto your other roles, I see you starred with your sister Abbe in a couple of projects, Saving Private Ryan and Guest House Paradiso
Yes we have, she's also busy now with her presenting career. Saving Private Ryan was just an amazing job. We flew to France to shoot our scenes there, and getting to work with Spielberg was amazing.

Another one of your films was The World Is Not Enough...
The Bond films are so huge aren't they. There's such a massive following, I'm always getting requests for signed autographs. That was a brilliant job...

I saw a feature for the 50th Anniversary of the 007 franchise on the Greatest Bond Girl Names. Verushka sounds exotic enough but unfortunately not there for she was one of Zukovsky's (Robbie Coltrane's) girls...
Very exotic. It was great with Robbie Coltrane because my character was Verushka, and the other girl was Nina and we kept getting it mixed up! He was brilliant, was always making jokes, and Pierce Brosnan was so lovely and down to earth. Very glamorous that job!

And I see you were cast in a couple of Harry Alan Towers projects; High Explosive and Deceit & Destiny Aboard the Orient Express
Yeah both before Dream Team. High Explosive was cool because we went to South Africa and filmed in Zimbabwe, and Deceit & Destiny was filmed in Bulgaria. They were great fun to do.

Knife Edge was a recent film you did too
That was good, that was all shot in London. I played a stock broker, and it was great fun. It's a horror movie and I only had a small part but the chance to be in a feature film. I love doing films so to be a part of that was wonderful.

Outside of acting, you're a partner in a wedding beauty business, NK hair and beauty - tell us about that. How did you get started?
Well I've always been into hair and beauty and make-up, so I set up a company that supplies hair and make-up artists for brides. And I also like to be part of a team as well, so I've hired parties to come and help me. But I just love doing hair and make-up for brides, and I've got a few girls that I employ as part of it as well.

That must be such a rewarding experience. Knowing the part you play on one of the most important days of a woman's life.
I know that's so lovely. I just love the whole excitement and build-up, and creating this amazing look. It's just a really rewarding job. And there's never a dull moment, you go to these wonderful venues and you're part of the excitement. It's so lovely just watching all the family, you get the mum coming in and shedding a tear looking at her daughter. It's just a really lovely job.

I also have 100 students that I coach for acting. I see that many in a week, and then get them to do LAMDA exams as well, which is the biggest acting award body in the world. So I get them ready for that and then put them forward for their exams. I work with kids a lot and enjoy teaching them, so with the wedding business and the acting and coaching I'm just rushing around all the time!

Would it be like educating them on moving into the area of acting and getting them prepared for it?
Oh yes. See my best friend owns lots of stage schools, including SOTA, and having so many contacts in the industry she's always looking for child actors for TV and film. So anything big comes along I'm always suggesting children I think would match the role on offer.

I see you've also done a lot of commercial work as well, worked in some far away places, like Right Guard filmed in Cape Town...
Yeah oh that was a wonderful job! Flew to Cape Town, I was there for just over a week and we filmed one day, and you get a driver so you get to see so much of the country and meet the people. Some commercials they can be the most amazing jobs, they can be quite difficult to get because so many people want to do them. You go to the auditions and there's every 'Tom, Dick & Harry' there. When I first started out in the industry, it was completely different, when you'd get commercials it was much more straightforward where as now it's just not the same anymore.

The recession hit the industry hard didn't it?

Yeah absolutely. The money used to be ridiculously amazing where as now it's not as good what with the recession and budgets. So you've got to do as many different things as possible, you need something to fall back on if one thing doesn't work out. Like when I left Dream Team I was thinking "I need something in case I don't get this job" and that's when I went and trained in the hair and make-up and set up the business. And with that and the work with the kids I'm safe, but I know so many people who've been made redundant or looking for work and really struggling. It's going to get better eventually, but for now you've just got to get out there and see what you can get.

<![if !supportMisalignedColumns]><![endif]>