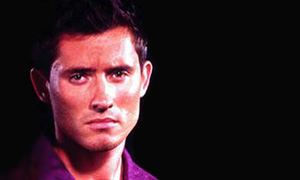 Andrei Belanov (Casper Zafer)
2001-2002
First Regular Appearance: 5.1 (#229) Passports Out Sunday 16th September 2001
Last Regular Appearance: 5.23 (#251) Secrets & Lies Sunday 3rd March 2002
Duration: EP: 229 - 251 ½ SE: 5.1 – 5.23
Squad Number/Position: #6 (Left Midfield) (2001-2002)
Last Seen: Departing for AS Monaco having fallen out with everyone, Taylor Doyle's scheming leaving Jeff in the dust.
At a cost of £3.5M (a record for Harchester in 2001), Andrei arrived from Steaua Bucharest, the 24-year-old Ukrainian's head turned by the club's gain of Champions League football at the end of the previous season. Well, that and the chance to put his womanising ways to use in a new country without the small fact of having a wife back home to worry about! Andrei settles into the team, becoming captain Stevie Shaw's sidekick and relishing in all the trouble surrounding the club, from Karl Fletcher's murder charge to causing a whole lot of controversy following a misunderstanding with Jamie Parker.
Having learnt Jamie is keen for a baby with Tash, but with it not on the horizon with her modelling career coming first, Andrei takes it upon himself to 'purchase' a baby for them from eastern Europe. He unveils the "gift" at Jamie's 25th birthday, with Tash, naturally horrified. Especially when she learns they will be the ones paying the mother for the child. Andrei is made to bring back the baby's mother, and the Parker's have to pay her to take the child back.
Andrei has one of his best matches with the Dragons when they play Rushden & Diamonds, but his weakness for over-partying sees him hook up with none other than Total-Tart Victoria Baptiste. Anyone a mile off could see this was a disaster, even more so when short-lived-manager David Spears houses Andrei with Monday Bandele, and Andrei brings Victoria right next door to favourite person Fletch. The star witness in the prosecution for his murder charge, Victoria continues to make Fletch's life hell, including blackmailing him with Andrei's own video camera for £500,000. Andrei soon realises he could do without the nightmare of Victoria and chucks her, just in the nick of time before hidden-away wife Anouk arrives in Harchester already in the know that she has a scumbag for a husband. With all his money as a Premier League star, Anouk hasn't seen a penny (or 1 kopiyka) in months due to Andrei's selfishness, leaving her in peril of debt collectors. Anouk develops a bond with Monday, and knows he would treat her better than her husband, but it goes nowhere and she returns home.
Andrei now takes great pleasure in winding up Monday whenever he can, especially when it is learnt Tash is pregnant and unknown whether Jamie or Monday is the father. It reaches a point where Monday lunges at Andrei in front of a TV camera recording the team's training session. Slimy agent Taylor Doyle has his hands on the tape however, something Lynda is not happy about and manages to stop the press getting hold of it. It's all for nothing though - a bitter Andrei goes public on Sky Sports claiming Monday's attack was unprovoked and shows off his blackened eye! Newly appointed Dragons boss Patrick Doyle has had enough, and wastes no time speeding up Andrei's departure, overseeing Jeff Stein to sort out a move to Parma. Doyle Jr. Taylor sneaks in on the deal however, and Andrei's final destination is AS Monaco.
It is probably the best for Andrei, as he would surely have had a seat booked on the team coach for the UEFA Cup Final, a crash which leaves three of his team mates dead.