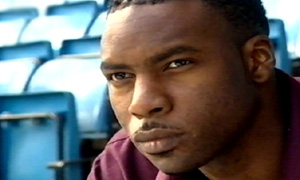 Wes Kingsley (
Razaao

Aboti

)

1999-2000

First Regular Appearance: 3.5 (#145) Tuesday 5th October 1999

Last Regular Appearance: 4.3 (#205) Sunday 15th October 2000

Duration: EP: 145 - 205 ½ SE: 3.5 – 4.3

Squad Number/Position: #19 / #8 (Striker) (1999-2000)

Last Seen: Sold to Birmingham City in order to facilitate Campbell Hooper's move to the Dragons.

Appearances have always been deceiving with Wes. Well built and muscular, he looks like the guy you wouldn't want to cross but in reality he is easy going, and keeps a cool head both on and off the pitch. He can make friends with anyone from any background, mostly because Wes is accustomed to a life of the ordinary man rather than one of a professional footballer. Viewed as a safe option, the big, or even middle clubs didn't opt for Wes, and he plied his trade at the non-league side Cambridge City. He was easily the most talented member of the squad, and Wes got noticed by agent Mark McNeil, who had a number of young lower league players on his books awaiting their big break. Mark took Wes to Leyton Orient in the Second Division, knowing that a step up could only contribute to making him the best player he could be. By the end of his first season Wes was the club's top goal scorer, but ever the modest, he turned down summer transfer requests to bigger clubs and Leyton were more than happy for him to stay!

Beginning his second season, it was clear Wes had outgrown the club and it was time to take advantage of the Premiership clubs now on offer. Of the clubs interested, Harchester United was an attractive bidder, having just won the FA Cup and now in the UEFA Cup for the first time in their history. The only downside being the club had three top strikers in existence already, meaning Wes would face big competition to get a game regularly. Wes and Mark arrived for discussions with Jerry Block on the morning the club suffered its devastating plane crash, and Mark also represented Leon Richards who was among those killed. Wanting to do his bit to heal the club, Wes stepped into Sean Hocknell's place, getting the chance to be a prominent striker in the team.

Wes being new and at the biggest club of his career saw him take criticism from the press, when the team's form was struggling to recover from the crash, and his mouthy strike-partner Scott Lucas didn't hesitate to blame him too. Wes found a friend in Billy O'Neill and became his flatmate, helping both Billy and Kelly James move on from losing their friends in the crash. Kelly was Wes' dream girl and he was over the moon when she wanted to see him too. When Luis picked up an injury he was temporarily replaced by Gordon Gallagher, who considered Wes a weak link and argued for more aggression to his game. Tensions between Wes and Gordon reached braking point, and Wes punches Gordon when he gets personal and brings Kelly into things. To his surprise, this incident earned Wes more respect in the team, that he had finally got passionate and reacted over something!

After being struck down with meningitis, Wes is out when the team head off for their away leg of the UEFA Cup against Mallorca. Kelly travels out on a job for Patterson PR, and meets up with her old boyfriend Fletch which results in her getting drunk and sleeping with him. Kelly felt terribly guilty and when Fletch re-signed for Harchester she dreaded the truth coming out, accepting Wes' proposal when he asks her to marry him. After a shocking 5-1 defeat to Man United at Old Trafford, the team argue on the coach home, and when Fletch and Wes clash, Fletch takes great joy in revealing all about he and Wes' fiancée. Wes whacks Fletch and breaks his jaw, before finishing with a remorseful Kelly, heartbroken that she couldn't remain faithful.

The club knew it was going to be difficult having both Fletch and Wes at the club, but with his record and reputation, Fletch was always going to come out on top. At the start of the following season, a controversy with Millwall over Campbell Hooper saw the London club demand compensation from Harchester, and it was decided the sale of Wes would raise the funds needed. Wes leaves for neighbouring club Birmingham City, not before offering guidance to the inexperienced Campbell as he had once been, and giving Fletch a parting gift - showcasing to the team full poster-size shots of Fletch crying over his crushed Lamborghini.