Season 1 Episode 1
Episode 1
Sky One Transmission Date:
Tuesday 14th October 1997
Written By
Directed By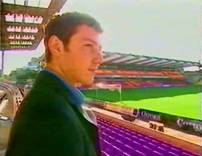 Dean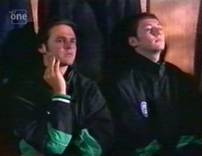 Fletch, Dean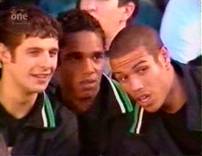 Sean, Vincent, Warren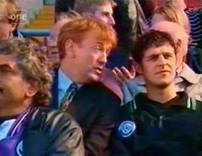 Frank, Sean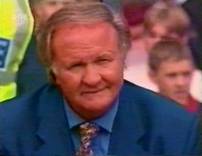 Big Ron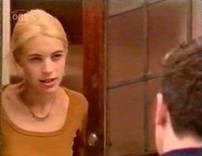 Zoe, Conor
Jacobs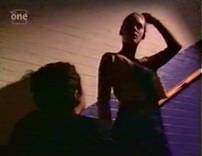 Dean, Georgina
GS: Steven Baker (Ian Middleton) Bob Adams (Martin Beaumont) Ron Atkinson (as himself) Mary McCarthy (Philomena Matheson)
Brian McCarthy (David McBlaine) Security Officer (David Spinx)

It is the afternoon before Harchester United's 3rd Round Coca-Cola Cup clash against Chelsea, and youth team captain Dean Hocknell will be sitting on the first team bench possibly about to make his debut. There is high anticipation from all around him, and his landlady at the Digs, Lynette wishes him luck. Dean visits the club's ground Addison Road, and wanders into the empty dressing room full of first team shirts, and looks over his amongst them, Hocknell #22. He gets a pang of realisation that this could be it, and runs to the toilet to throw up.

In Northern Ireland, Conor McCarthy is saying goodbye to his parents as he is leaving to fly to England and join the Harchester youth team. Lucy Patcham is news reading on Harchester Sound FM Sport and is told by her boss Bob Adams the usual match reporter is ill so she will be covering the Chelsea game. She is excited at this chance to prove herself. In the training ground's youth team changing room, Frank Patcham has a problem. He takes Sean Hocknell into the showers where he left a plaster in the plug hole he was supposed to clean, and in front of the team uses it to point out Sean's lack of awareness. Unlike Dean who is a professional. Sean is fed up with being compared to his brother, and Frank tells him if he sorts his head out he might have a chance.

Dean is still sitting alone in the home dressing room when Fletch comes in and introduces himself to the "new boy". He tells Dean not to sweat it as he might not even get on the pitch. At the Baker house and digs, Lynette is heading to work at the casino and tells kids Zoe and Steven that dad Des is stuck in France. His phone calls keep breaking up. Lucy sees Dean and they tell each other their good news, and arrange to meet afterwards. Ron Atkinson gives his pre-match team talk and prepares Dean for his chance to go on. Conor arrives in England but there is no sign of Des who is supposed to be meeting him. Fletch is having fun winding up Dean, and Frank comes into the dressing room to wish Dean luck. He already has Frank's "Play the game, not the occasion" motto instilled in him.

Warren, Vincent and Sean take their seats for the game, with Frank sitting next to Sean (awkward!). The team head out, and Lucy's game of her own is underway too. Chairman Michael Jacobs is in attendance. Conor is still waiting, and the airport puts out an announcement for Des. Steven watches the game at home and is excited to see Dean listed as a substitute. The game kicks off with Fletch's kick, although he is off-side pretty soon in. Conor has given up waiting and sets about getting himself to Harchester by taxi. Roberto Di Matteo scores for Chelsea, and as Steven pays attention to the game, Des phones and gets the answer machine saying he hopes they got the messages about the new boy, Conor McCarthy arriving.

Ron tells Dean to get warmed up, and Sean and the boys are excited at the thought of him going on. Mark Hughes scores making it 2-0 to Chelsea. As Warren predicted, Ron takes Fletch off having been a disappointment and replaces him with Dean. The lads cheer and Lucy is excited in her commentary. Dean gets his shot but shoots too wide, which doesn't impress Sean or Steven at home, but Frank would like to see Sean try! Half time comes and Conor's taxi is going to cost him all of his money. Sean takes Warren's bet that £5 says Dean will score. Dean scores, but Sean isn't bothered about losing the bet, he is ecstatic for his brother.

Steven celebrates Dean's goal, but Zoe doesn't care, she hates football and threatens her 12-year-old brother with violence if he turns the TV up again! Conor knocks at the door and explains his situation to Zoe, but instead of inviting him in the moody cow is less than helpful and sends him all the way to the club to be dealt with. The one minute injury time ends and Harchester are out of the Cup losing 2-1. The fans take out their frustrations on Michael Jacobs. As Dean and Fletch give post-match interviews, Jacobs and Atkinson have heated words about their dire situation. Jacobs accuses the manager of not motivating his players, while Atkinson gives the ultimatum that the chairman needs to get his hand in his pocket or they're going down.

Dean arrives at Studs to cheers from his former youth team mates. Sean congratulates his brother but wants to know if he's spoken to their dad yet, which Dean gives a vague excuse. As the lads get down to partying, Sean spots an attractive blonde girl nearby, but she isn't interested in him. It is pitch black out, and Conor wanders into a phone box to call his parents, making up that everything has gone fine. The blonde girl, Georgina, eyes Dean as a threatened brunette marks her territory. Conor runs out of money and continues on his way to the club in the dark. Georgina catches Dean's attention and she leads him out of the club. They get into a taxi and the girl asks to be taken to Harchester United Football Club.

Conor has made it to the club and spots Ron, but Big Ron has had enough for the day and tells Conor he is going home. Conor realises he is out of options and settles himself down to sleep rough at the club tonight. Inside the club, Georgina leads Dean up the stairs to the boardroom. Lucy arrives at Studs, and is disappointed to be told by Sean that Dean's curfew has seen him home for the night. Dean, who is very drunk, stands on the boardroom table and announces he will win loads of trophies, before sliding down to Georgina, and the two make out on the long table. They are unaware of the camera recording their every movement, and as the camera outside catches Conor bunking down, it also shows Dean and Georgina having a bunk up of their own! The impressed security officer thinks he's getting a free porno, and presses record on the VCR!

Notes:

· The series opens with thirteen original regular characters. Steven Baker is recurring so is not included in this number. First appearances of [regulars] Dean Hocknell (Darren Morfitt), Lynette Baker (Katy Newell), Conor McCarthy (Michael Legge), Frank Patcham (John Salthouse), Sean Hocknell (Daymon Britton), Vincent Osamabiku (Michael Price), Zoe Baker (Sam Loggin), Lucy Patcham (Kate Farrah), Karl "Fletch" Fletcher (Terry Kiely), Warren Masters (Clinton Kenyan), Michael Jacobs (David Hunt) and Georgina Jacobs (Clemency Burton-Hill). And in voice-over form, Des Baker (Bill Fellows).

Best Known For: Following DT, Darren Morfitt played regular roles Simon Purvis on "Grafters" (1998-1999), DS Patrick Yates "55 Degrees North" (2004-2005) and recently DC Mark Leko in "Top Boy" (2013). His film credits include Pte. Peter Skeet in "Warriors" (1999), 'Spoon' Witherspoon in "Dog Soldiers" (2002), Jesus in drama musical "Manchester Passion" (2006) and (alongside Bill Fellows) Swift in "Harrigan" (2013). Katy Newell had a number of TV guest roles and starred in "Brookside" in 1984 as Cathy Walker, and Valentine Park (1987-1988). She will make her acting return in 2016's "Mo Handed". Michael Legge's film roles include Vince Smith in "Whatever Happened to Harold Smith?" (1999), Older Frank in "Angela's Ashes" (1999), "Cowboys & Angels" (2003), "Omagh" (2004). The regular role Tom O'Leary in "Shameless" (2007-09) and Tipper Malone in "Outcasts" (2011). He has recently been providing the voice of Luke in "Thomas & Friends". Before his acting career, John Salthouse played as a professional footballer himself, for Crystal Palace until a bad knee injury ended his career. He's since gone on to star in the films "The Spy Who Loved Me" (1977), "An American Werewolf in London" (1981) and a prominent regular role as Detective Inspector Roy Galloway in "The Bill" (1984-87). He also starred in and was series producer for "Is Harry on the Boat?" (2002-03). Daymon Britton's varied career includes the regular roles Dom Meredith in "Byker Grove" (2002-06), Casey Winters in "World's End" (2015-), a memorable stint as D.I. Bulmer in "Hollyoaks" (2013) and the film "School For Seduction" (2004). He was also third assistant director on "Wire in the Blood" (2007-08), and director on all episodes of "Harriet's Army: Harriet's Memory Box" (2014). Among his TV credits Michael Price had a stint on "Hollyoaks" as Taylor James (2000) and appeared in the thriller "Sorted" (2000). Sam Loggin appeared in "Dangerfield" (1997), the lead role in the series "Lucy Sullivan is Getting Married" (1999-2000) and a regular in the series "Girls in Love" (2003-05). David Hunt oversees a successful career on both sides of the Atlantic, ranging from "Falcon Crest" (1989) to "Everybody Loves Raymond", Day 6 of "24" (2007) and recently "Castle" (2011) "Mad Men" (2012). Alongside her acting career including "The Prince & Me II: The Royal Wedding" (2006) and TV series "Party Animals" (2007), Clemency Burton-Hill has forged a successful TV and radio presenting career, featuring a number of cultural music shows and notably fronting BBC Proms since 2009. Two non-speaking actors here go on to have regular roles on "EastEnders"; Leila Birch (as the threatened brunette) played Teresa di Marco from 1998-2000 and David Spinx (the porn-seeking security officer) played Keith Miller from 2004-08.

· Quotes: Frank Patcham's line "Vincent's bought the puff's perfume again" will never see the light of day again. Bit like Dean Boyle calling Marcel Sabatier "Sabatty-boy" in 7.1 [293] Groundhog Day. Dean: "...you're going to get me in trouble" Georgina: "Hmmm... I like trouble".

Additional Info: Dream Team Season 1 went out on Tuesday and Wednesday nights at 6:00pm on Sky One, this the first of a run of 64 half hour episodes. Lynette Baker was the first character to speak the first line in the series. Going with later club continuity, this is Harchester's first season (back) in the Premier League since their relegation at the end of the 1995-96 season. Lucy's news bulletin describes them as "Newly promoted Premiership strugglers". She also credits the Chelsea game as Harchester's biggest game of the year so far. Fletch has had only one goal in ten starts so far this season after scoring thirty-five in the First Division last campaign. Conor's hometown is Newry, in Co. Down, Northern Ireland. Living at the digs with the four Bakers are Dean (presently), Sean, Vincent and soon enough Conor. Former residents include Warren and Fletch.

· So Terribly Dated!: Frank referring to Sean, Vincent and Warren as "The Spice Boys".

What Was The Score?: The Dragon's bad season continues even as we meet them for the first time, and they crash out of the Coca-Cola Cup losing 2-1 to Chelsea. Goals from Di Matteo and Hughes while Dean at least has a good debut. And it looks like Ron Atkinson has had just about enough! Team Sheet: (1) Chris Banks (3) Doddie McNeill (4) David Stiles (5) Mark Adams (6) Scott Moore (8) Ricky Charlton (9) Karl Fletcher (10) Stuart Greaves (11) Alan Law (18) Franz Muller (27) Jamie Brown / Substitutes: (22) Dean Hocknell (25) Franco Rossi [Lonyo Engele] (13) Fitzroy Jennings.

· Soundtrack: Radiohead: "High and Dry", Massive Attack: "Unfinished Sympathy"

Behind The Scenes: At the end of the series in 2007, Jane Hewland revealed how some of the plots on Dream Team's beginnings came about: On Harchester being a West Midlands set club, it would have alienated a lot of football fans/viewers in other parts of the country if it had been London where the series was being made. And that it would have felt less believable too because the big Premiership London clubs are so established. The club/town name was also nearly 'Keeley Town' rather than Harchester, as then associate producer Rod Brown and series producer Cameron McAllister thought Harchester was too close to "Roy of the Rovers"' Melchester! And finally, the team colours of orange and purple were selected as they were the two colours no other Premiership team were using in 1997-98. Everton, Chelsea and Liverpool were used to 'colourise' the on-screen matches as they had the solid plain colours required for Harchester.
TV & Satellite Week Episode synopsis