Season 1 Episode 14
Episode 14
Sky One Transmission Date:
Wednesday 26th November 1997
Written By
Currently Unknown
Directed By
Currently Unknown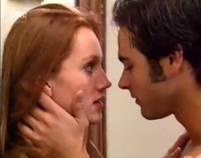 Lucy, Fletch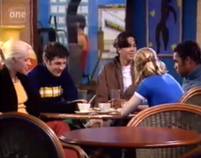 Zoe, Sean, Noah, Vincent, Gemma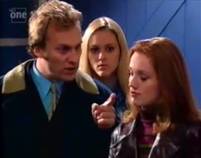 Michael, Georgina, Lucy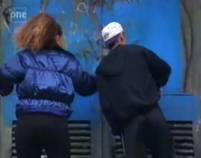 Mandy, Warren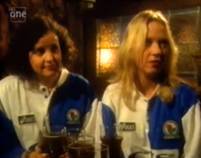 Shirley, Tanya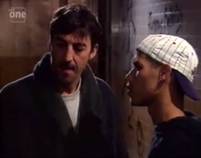 Pete, Warren
GS: Mandy Burley (Annelies Lovell) Gemma Potter (Gem Durham) Noah Langham (Adam Garcia) Pete (Russell Levy)
Des has ordered his ticket for Blackburn away. The warring Hocknell brothers are driving him round the bend, and he feels a trip to Ewood Park is just what he needs. Lucy has travelled up to Blackburn where Dean spent the night in her room, and they hope the trouble with Sean plus her own recent unpopularity within the club will have blown over by the time they get home. Dean suggests now may be the best time to look for a place of their own, and they agree to start when they get back. Michael has Georgina in his office, where he calls her bluff on her studying biology at her friend's house the other night, and knows she was "getting drunk and acting like a tart with half the football team". Michael tells his daughter maybe it would be best if she went back to live with her mother, but an upset Georgina pleads with her father not to send her away.
Lucy is forced to go knocking on Dean's hotel room door, and is uncomfortable when Fletch opens the door. She explains Dean mistakenly took her wallet but he is not in the room, and soon Fletch is passionately kissing Lucy, who doesn't back away. After a while, she panics and flees the room. Zoe, Sean, Vincent and Gemma sit together in the health club, reflecting on the trouble the other night, and Gemma gleefully tells about how she dyed Georgina's hair orange yesterday. Sean feels put out when Noah comes along and Zoe asks him to join them. Des is queuing for his taxi when two Blackburn fans, Tanya and Shirley, offer him a seat in theirs, although they are sure that as a Dragon he is going "down". Des' wallet falls out onto the pavement without him realising.
Sean is facing a losing battle as Noah continues to impress those sitting around him, first with the spiritual side of the martial arts he practices, and how he too is into football with Terry Venables being Australia's coach. Des and the girls' taxi arrives at Ewood Park and Des offers to pay, but notices his wallet is gone and feels a fool like his "Blackburn curse" is paying off. The girls tell Des they will sort it and he can sit with them as they have a spare ticket of their absent friend's, as long as he covers up his Harchester gear! Des is grateful and tells the girls he doesn't know how to repay them, but is told they will think of something! Michael is not happy to see Lucy in the tunnel at Ewood Park, and she has to remind him this isn't his club when he reminds her she is banned. Georgina blames Lucy for how her dad will now not let her out of his sight, and Lucy tries to explain she didn't know the story she was working on would break.
Sean gets his moment when they learn Noah is at university down the road, and brings up how a 7-1 game against his uni team included a hat-trick from Sean himself. The group watch the game on TV from the health club, and Sean blames Dean when Chris Sutton scores for Blackburn. Noah heads off and gives Zoe his number, offering to help with her studies and to show her round the university, to Sean's annoyance. Gemma continues to play matchmaker and suggests Noah take Zoe's number too. Warren is painting a graffiti-covered door when Mandy comes along with Kayleigh. Mandy tells Warren a friend has invited her to a new pub tonight, but with her mom at bingo she'd have no-one to baby-sit Kayleigh. She makes a deal that if she helps Warren paint the door he'll look after Kayleigh tonight.
In the taxi back after the game, Shirley speaks to the local police station and finds Des' wallet has been handed in, and Tanya comments on how after Des' lot played he'll need a consolation drink. Georgina stops Dean, and apologises for before, saying she never wanted to come between him and his brother. Dean has no time for her (still), and Georgina remarks she cared for him but as soon as he found out who she was he dropped her, all for his career, and he's now free to move onto his next bit on the side. Warren and Mandy arrive back at the flat, and find Pete, a prison-buddy of Kenny's lurking in the shadows. Dean tells Lucy before they begin looking for a place together, it's important to him that he sorts things out with Frank.
At the pub, Des tells the girls he has to catch his train, but they want him to stay at theirs, adding although he's a married man, they won't tell if he doesn't! Pete tells Warren he finished his stretch last week, and Kenny sends him his best. Pete says Kenny told him to go to Warren if he needed anything, and knowing Warren is in at the club, asks Warren to knock off some gear at the club shop that he could sell down the market. Tanya and Shirley see Des off at the station, adding that Lynette is a lucky woman, before leaving with only each other for company! Pete tells Warren all he has to do is get a set of keys to him and he'll copy them, that is all. He adds this could be easy money for him, and will be in touch. Although Warren is determined to stay out of trouble, it is clear he is tempted.
Notes:
· Best Known For: Adam Garcia has a varied career in television, film and stage. After his stint here on DT he played the lead role in the stage musical version of "Saturday Night Fever", with his version of the song "Night Fever" reaching #15 in the UK singles chart. Another big stage role was Fiyero in both the Original London Production and West End London productions of "Wicked". Prominent film roles in the US included "Coyote Ugly" (2000) and "Riding in Cars with Boys" (2001), while he returned to British television with "Britannia High" (2008) and "Best Possible Taste: The Kenny Everett Story" (2012). He also worked as a judge on the reality dance series "Got To Dance". Russell Levy played famously the man who shot the original character WDC Viv Martella in "The Bill" in her last episode in 1993. He also had a prominent role as Manheim in the blockbuster film "The Bourne Identity" (2002). He is believed to have passed away in May 2011.
The Best: Fletch taking his chance with Lucy. He does seem to be interested in her throughout Season 1 while Dean messes her about. Friendly threesome-wanting Blackburn fans Tanya and Shirley, who were just unfortunate that Des is a happy family man. I'm sure there would have been much interest in their offer had they encountered the Harchester first or youth team!
· Quotes: Zoe (to Sean): "I don't have to take this from you. Not after your performance the other day with your low-budget Lady Chatterley!". Sean and Zoe continue to squabble; Zoe: "In your dreams" Sean: "In my dreams it's Melinda Messenger!".
Foreshadowing: Jacobs informs Dean that the team are in for a shock next week – clearly the arrival of new manager Ian Coates.
· Continuity: Des tells Tanya and Shirl about how he is Dean Hocknell's landlord, and that Karl Fletcher (who Tanya fancies) lived with them when he was in the youth team, though he is a wild one!
Additional Info: Lynette points out that it always goes wrong when they go to Blackburn; how in '82 they got food poisoning, in '85 "Palmer" missed a penalty and Lynette went into labour with Steven on the way home, and '88 they lost 4-0 and the coach broke down on the M6. John Hollins is still caretaker, and has stated he doesn't want the manager's job on a full time basis at Harchester.
· What Was The Score?: Referred to as a "1-0 massacre" by Jacobs. Fletch screws up a free kick against Blackburn's wall.
Soundtrack: Cast: "Guiding Star"