Season 1 Episode 29
Episode 29
Sky One Transmission Date:
Tuesday 20th January 1998
Written By
Currently Unknown
Directed By
Currently Unknown
Lucy, Frank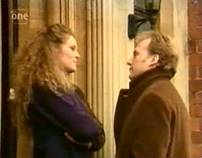 Lynette, Jacobs
Dean, Frank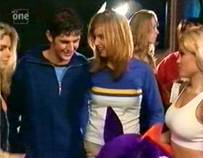 (L-R) Emma Steadman, Sean, Catalina, Melinda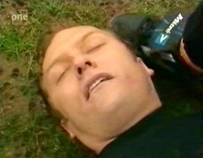 Michael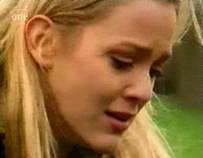 Georgina
GS: Melinda Messenger (as herself) Emma Steadman (as herself) Catalina Guirado (as herself)
Lynette is going to see Georgina, and Des is not happy about her spending more time at the Jacobs'. Lynette says Georgina needs a woman to be there for her, but Des won't listen, believing she should be at home with her own children and not her ex-boyfriend's. Lucy is in deep regret about spending last night with Michael, and is edgy around Frank. She can't bring herself to tell him about it though - especially when Frank confesses his biggest regret was the time he gave a penalty away to Arsenal! Lynette is surprised to find Michael at home, with the big lunch meeting he is hosting today at the club. He asks her if her feelings are any different, and she says they're the same as when she decided years ago, she's staying with Des and is here to see Georgina. She persuades Michael to go into the club, and on the doorstep they hug, unaware Des is watching from his car.
Jacobs encounters Dean in the club car park, and informs him how thanks to Lucy he's had the revenge he was looking for, so Dean will be keeping his teeth. Dean is confused as to what this has to do with Lucy, so Michael takes great pleasure in revealing what they got up to last night, adding that unlike Dean he and Lucy were stone-cold sober when they did it! Georgina is determined to take part in the fashion show today, but Lynette is worried for her with the amount of press that will be there. She asks Georgina what the situation is with telling her dad that she is pregnant. Georgina is putting it off, but says she'll do it if Lynette comes with her. As he finishes training, Dean approaches Frank who is less than pleased to see him. Frank tells him how disappointed he is in him, after he took him into his home and family. Dean tells Frank that Lucy isn't perfect herself, and informs him of her spending last night with Jacobs. Frank flips and yells at Dean to get out before he kills him!
Georgina arrives at the fashion show, and she and Melinda look out at the crowd from behind the curtain. Georgina is nervous about all the journalists sitting out front, but tells Melinda she's not backing out. Dean waltzes into Jacobs' office and puts it to him that in order to get away from him and his daughter he wants to be sold. Jacobs gloats about his big plan for Dean, and how he won't be selling him and doesn't care about losing the money. Instead, he is going to leave him in the reserves for the next five years he is contracted to the club, not just because of Georgina, but for his and Biloo's greed. Dean says Coates and the fans won't stand for it, and neither will the PFA which he will go straight to. Michael tells him he hasn't got a leg to stand on, and shouts that he owns Dean!
Sean wanders backstage and asks Melinda if he can get involved with the modelling, to which she says she has just the outfit for him! Sean isn't sure when he sees it's the Dragon mascot costume, but with reassurance from Melinda and Catalina, plus a kiss from Emma Steadman, he soon changes his mind. Des interrupts Jacobs' lunch meeting in the boardroom to ask him whether he has slept with Lynette. Michael turns it into an insult backlash at Des, taunting him that he pushed Lynette closer to him when he made her take the job as his secretary, and how he doesn't need to take Lynette because she is already on her way to him thanks to Des prostituting his wife to save himself! Des turns around and wallops Michael across the long table and its spread.
Lynette is not impressed when she hears what Des has done, but Des tells her he knows she is lying about seeing Jacobs as he saw them at the house this morning. Lynette is stunned that Des followed her, and when he confesses he's always been scared some flash bloke will take her away she tells him all the years they have been married she has never wanted to be anywhere else. Melinda opens the Harchester United Spring Into Summer Collection, and tells Sean to dance around, have fun and not to worry as nobody knows it's him! This almost goes to plan until his Dragon's head comes off and the crowd plus the youth teamers including Vincent have seen him. The fashion show continues, with Georgina sauntering down the catwalk, however she becomes dizzy with the lights and camera flashes and falls over. Lucy can't help feeling smug that Georgina embarrassed herself. Melinda looks after Georgina backstage and gives her water.
Dean turns up at the radio station looking for Lucy and asks her if she's proud of herself over Jacobs. She says very - in fact she has been talking to The Sun all about Dean's antics and proudly says she made a few quid from it. She says she's even given them the photo of Dean falling into the road drunk on his eighteenth birthday. She tells him her thing with Jacobs was a one-off with no feelings between them, but it was just the start of making Dean pay which she is going to love continuing to do. Dean tries to say this wouldn't be as bad if it wasn't for the tape and the newspapers, and Lucy reminds him that he did this before they were even married. What about in ten years time when she's losing her looks and nineteen-year-olds are throwing themselves at him?
Georgina goes to the training ground where Michael has joined in a practice match with the reserves. She says she has something she needs to tell him, but Michael wants to finish his game and says he'll be back in a couple of minutes. Georgina watches from the sidelines as Michael even manages to score, but in his victory he clutches his chest and collapses to the ground. The players surround him and Brian begins chest compressions before telling one of the lads to get an ambulance. Georgina comes running over and Brian tells her it looks like Michael is having a heart attack. Georgina is in shock and cries for her dad.
Notes:
Goodbye To: Last appearance of Michael Jacobs (David Hunt). He is the first of DT's original regular characters to leave the series.
· Best Known For: Catalina Guirado is a model and TV personality who came to prominence on Channel 4's "TFI Friday" in 1996-97, and amongst other TV roles was a contestant on "I'm a Celebrity... Get Me Out Of Here" in 2003.
The Best: Frank's reaction to Dean's story of Lucy sleeping with Jacobs. Des socking Jacobs. Melinda's kindness towards Georgina. Michael re-living his brief playing days for Harchester, his dream that never died before, ironically, he does. Clemency Burton-Hill is great as Georgina throughout.
· Quotes: Lynette (to Des): "I know what's happened. I've seen Michael Jacobs" Des: "There's a surprise. Well he deserved it. What did you do? Kiss it better for him?!". Emma Steadman (on Sean wearing the Dragon mascot costume): "I love furry things, my bedroom's full of them!".
Continuity: Frank tells Dean for the first time he can see his father "Sammy" (AKA Ken) Hocknell in him, and hopes he remembers that feeling of being let down when his dad staggered out of his life.