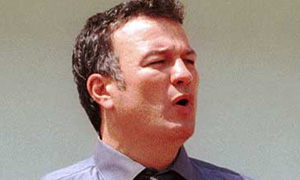 Alan Rothman (Glen Murphy)
2001, 2003
First Regular Appearance: 5.1 (#229) Passports Out Sunday 16th September 2001
Left: 5.3 (#231) Revenge Is Mine Sunday 30th September 2001
Returned: 6.25 (#285) Show Me The Money Sunday 30th March 2003
Last Regular Appearance: 6.32 (#292) Just The Ticket Sunday 18th May 2003
Duration: EP: 229 - 231, 285 - 292 ½ SE: 5.1 – 5.3, 6.25 – 6.32
Position: Manager (2001, 2003)
Last Seen: Sitting in the stands as Phil Wallis raffles off the club. Isn't kept on as manager so leaves town again.
<![if !supportEmptyParas]> <![endif]>
A no-nonsense Gaffer. If there was a problem involving one or more of his players which didn't relate directly to football, Alan Rothman did not want to know. As a player, Alan enjoyed a successful stint in Roma, where he fell in love with the European game. Beginning his managerial career at Gillingham, he progressed to the point of returning to Italy and taking over at Bologna. By the summer of 2001, the position of manager was vacant at Harchester United following the resignation of Ray Wyatt. And though the club was still under a cloud following the recent murder of chairman Prashant Dattani, Alan once again only cared for the football side of things... that and his paycheck of course!
The Dragons were in the Champions League for the first time in their history, and now with an owner who would provide little interference, Alan took the job, bringing his assistant David Spears with him. Alan's first game with Harchester, none other than the Champions League qualifier against Mallorca, was thrown into chaos when Karl Fletcher was arrested for Prash's murder. Alan puts his protective side on show and is there beside his striker, but also keen for Fletch to start in this all important game.
With long-time assistant David taking charge in Alan's absence, Rothman is busy screwing Dawn - David's wife! It isn't long in Harchester before David knows the truth and plots to bring Alan down. When AC Milan come in for Alan, he plans to take David and Stevie Shaw - the man he sees as the star of the team, to the San Siro with him. Not only content with taking Stevie behind Chief Exec Lynda Block's back, Alan is also out to make himself money from the deal. David knows this, and conspiring with slimy journalist Paul Hankin, oversees that Alan is caught out discussing the deal and money he is set to receive. Because of this, Alan loses everything, and leaves Harchester in disgrace. The one wise decision he does make is to end his affair with Mrs Spears… probably realising a nutter was the last thing he needed on his plate on top of everything else!
<![if !supportEmptyParas]> <![endif]>
A year and a half later, with his favourite Chief Executive Lynda tucked safely behind bars, Stevie dead and David God-knows-where, Alan gets the chance to put things right at Harchester when chairman Phil Wallis brings him in as caretaker. It is late in the 2002-03 season, and previous manager Patrick Doyle has been sacked for Alan's old duties - being a cheat and sleeping with his work colleague's wife (in his case Phil's wife Jacqui). Of course, Rothman returns with yet another lust dilemma, replacing Deranged-Dawn with Sky Sports presenter Yvonne. This, while his young, ambitious Claudia Irving-esque PA Jennifer is also in love with the man. Alan keeps the team afloat until what should be the last day of the season, when the team are held up by Jamie Parker. Having been mentally destroyed by Doyle, Alan had dropped Jamie from the squad, and now felt responsible for the goalie's actions. As the siege ends in more blood shed, Alan suffers a heart attack but survives, and is there to see Harchester escape relegation by beating Everton 1-0.
As he leaves to recuperate no doubt somewhere hot, scheming new Chief Exec Pilar Hernandez realises Alan would be too much of a match for her puppetering techniques, and opts for Stuart Naysmith as new manager. Alan leaves with Jennifer for pastures new, and to leave us hoping Yvonne wouldn't be too handy with a roll of duct tape and working the gas mains if she happened to discover Jennifer's true feelings for Rothman.