Season 1 Episode 20
Episode 20
Sky One Transmission Date:
Wednesday 17th December 1997
Written By
Jo Scanlan, Jo Unwin & Paul Hodson
Directed By
Currently Unknown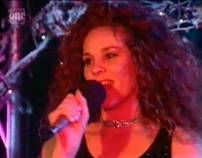 Lynette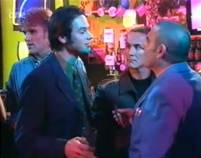 Fletch, Dennis Wise, Eric Hall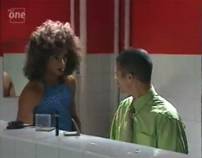 Vincent, Warren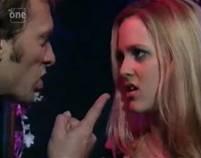 Jacobs, Georgina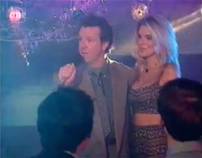 Des, Emma Steadman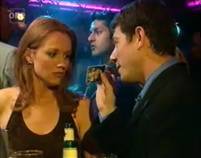 Lucy, Dean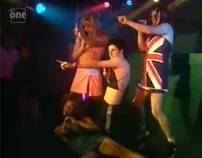 Spice Boys (Vincent, Dean, Sean, Des)
GS: Biloo Kapur (Hari Dhillon) Mandy Burley (Annelies Lovell) Noah Langham (Adam Garcia) Trudi Payton (Shelly Minto)
Emma Steadman (as herself) Dennis Wise (as himself) Eric Hall (as himself)
Studs is being set up for the Supporters' Club Christmas party, and of course Saint Noah of Langham is helping out which Des thanks him for. Noah quips to Sean that he didn't recognise him with his clothes on, and Sean complains to Vincent that Trudi left him tied there for half an hour. All of his friends have received the Polaroid shots of him, and Zoe has even had one enlarged and stuck on her wall. Vincent shows him his own copy! Michael tells Georgina she deserves to come to the party, and has even bought her a dress, but she wants to stay home, promising she'll wear the dress on Christmas day. Frank is surprised to hear from Lucy that she and Dean will be moving into their new flat over Christmas. Fletch arrives and makes sure to bag a kiss off Lucy before saying he wants to dance with her tonight, even as Dean shows up.
Georgina isn't impressed when she looks in the bag at her dress, but gets a phone call and tells the person on the other end when they see her, she won't be wearing much more than mistletoe! Lynette is shocked to hear that Des hasn't got anyone booked entertainment-wise but her, and with the DJ sick it looks as if he is going to have to MC! Georgina has slipped into her own sultry black number, and is ready to be taken to the party by her mystery caller. Vincent tells Sean Des has asked them to help with the entertainment, and suggests they do a drag act, which Sean predictably is not up for. Des addresses the crowd, and as expected his jokes fall flat but the audience are much more impressed when Lynette comes on to sing. All except Zoe, who wishes to Noah that the ground would open up and swallow her due to her parents' antics.
Mandy is enjoying being flirted with by Fletch, and Warren gets the hump, dragging her away and saying she's acting like a tart. He says she wouldn't act like this if Kenny was around. Emma Steadman arrives to present the award for Young Player of the Year, and Biloo whisks her away before Fletch can get his chance. Michael has Lynette in his sights, and gets her to dance with him, adding how pleased he is that she has come to work for him. His moment is ruined when Des gets back on stage and announces the chairman is due to speak. During his speech, Michael announces Dean will be signing a contract that will keep him at Harchester for many years to come. As he speaks, Georgina enters with none other than Dennis Wise! Controversial!
Afterwards Michael tells him he is brave as he is still a marked man after that Cup business two years ago. Michael saves his real annoyance for Georgina, saying she has insulted everyone bringing him here, and does Dennis even know how old she is? All Georgina cares about is that Dennis treats her like an adult which her father can't seem to do. Des thinks the night has been a disaster, capped by the footballing devil himself Dennis Wise rocking up! As they get some air outside, Fletch tells Lucy he envies her as she and Dean got together before he made it, proving she's not with him for the fame and money. Lucy sees another side to Fletch when he adds he wishes he had what Dean does, that being her. As she slow dances with Dennis, Georgina watches Dean, clearly hoping he will be jealous. Dean isn't the one who has had enough though, as Jacobs storms over and takes Georgina away from a miffed looking Dennis.
Zoe lays down the law to Sean - he will be taking part in the Spice Girls/Boys cabaret. When Sean again flatly refuses, Zoe shows him her T-shirt, featuring a printed shot of Trudi's revenge, and says she will be selling these to the fans unless he gets up there involved. In the gents, Vincent is getting a little too involved with his alter ego of Scary Spice, and a slightly freaked out Warren brings up how he has been secretive lately along with the man they saw him with yesterday. Jacobs yells at Georgina that she is a slut, and she throws back now he knows how it feels to be humiliated on top of locking her up and accusing her of being a drink and drugs addict. Vincent gives Warren the explanation - his mom has never been too happy on him just concentrating on football, so he made a deal with her that he would keep his English A-Level studies up, and the man he was seen with was Andrew, his tutor. Fletch comes out of a cubicle, rubbing his nose, and the boys know what he has been up to.
Emma Steadman presents Warren with the YPOTY award and Frank tells him it is much deserved. Emma isn't finished though, for a special dance with her is the prize in a raffle, and the winner is announced as old killjoy himself Frank Patcham! Mandy is proud of Warren, but he isn't pleased with her, and suggests she should have her tongue down Fletch's throat before storming off. Dean asks Lucy if she wants to slip off, and presents the key to the honeymoon suite at The Grange. Lucy questions whether Dean is trying to ask her something, to which he confirms - will she marry him? Before she can answer Dean is dragged away by Vincent for his own drag-related reasons. A tipsy Frank says goodnight to Lucy, but wants to know who the bird was that just pulled Dean away?!
Sean gets a shock when "Santa" wants to show him something, and believes it is because he is done up like Melanie C, until he recognises that voice as none other than Trudi. He says she has humiliated him, but surprisingly she wants to make up, and make out! Mandy gets back in at the flat and demands an apology from Warren, and to know why he is acting like this. He says it is because she is cheating on his dad, but she knows that isn't it. She gets it out of him that he fancies her and has done so for ages. Mandy actually reciprocates Warren's feelings and before long they are passionately kissing. Frank gets back to his house and knows this isn't because he has drunk too much - Conor is really sitting before him on his doorstep!
Notes:
· Best Known For: Dennis Wise, seen here during his eleven-year playing career with Chelsea, played as a Midfielder and had stints at Wimbledon, Leicester and Millwall (when it doubled as The Dragon's Lair for that weird place Harchester!). Throughout his time at Chelsea he was also an England International and has since managed Millwall whilst playing for them, and then Leeds. Emma Steadman came to prominence as the runner-up of Miss Great Britain in 1994, following which she was snapped up by Bruce Forsyth's "Price Is Right" as a model/assistant for its 1995-2001 duration. Eric Hall is a former show business and football agent, representing some big British names in football in the 80's-90's, including as seen here Dennis Wise.
The Best: Fletch having to remind Eric Hall that he is his actual agent, when Eric tries to snap him up! The boys' performance as The Spice Boys is both cringe-worthy and brilliant. Michael Price (Vincent) channelling Mel B.
· Quotes: Dennis Wise: "Weird place, Harchester".
Foreshadowing: Lucy isn't looking forward to another experience in Dean's single-bed at the digs, and it comes back to haunt them both in 1.26 (#26).
· Continuity: A Dennis Wise foul gave him the penalty which knocked Harchester out of the Cup two years ago. This would have been the season [1995-96] in which Harchester were relegated from the Premier League for the first time, and was likely to have been a contributing factor.
Additional Info: The Harchester Spice Boys (who we've been teased with since Episode 1) are made up of Sean (Sporty), Dean (Baby), Des (Ginger), Noah (Posh) and of course Vincent (Scary).
· Surprise!: Music-wise, that the show got to use and perform the whole "Wannabe" song instead of just part. It was a nice little time-killer dialogue-wise, but surely must have cost a bit?
Soundtrack: Dario G: "Sunchyme", Shola Ama: "You Might Need Somebody."
TV & Satellite Week episode synopsis