Season 1 Episode 8
Episode 8
Sky One Transmission Date:
Wednesday 5th November 1997
Written By
Currently Unknown
Directed By
Currently Unknown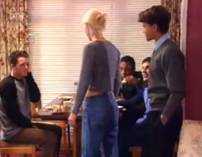 Conor, Zoe, Vincent, Sean, Steven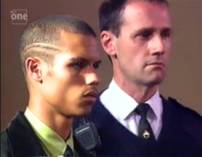 Warren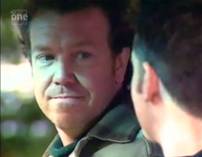 Des, Conor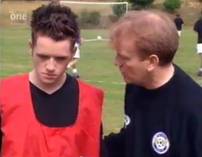 Conor, Frank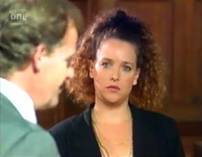 Mr Higham, Mandy
Frank
GS: Steven Baker (Ian Middleton) Mandy Burley (Annelies Lovell) Brenda (Michelle Joseph) Doug Hastings (David Kennedy)
Dean, Vincent and Sean discuss Warren taking Conor's initiation the night before his court case, but are confident he will get off and be around for Bonfire Night. Jacobs arrives to find the boardroom door handle smashed, and his attention is then drawn to a black bra prominently on display over a trophy. Warren is back in the flat complaining about the lack of food in, which Mandy explains she had to keep her allowance not knowing if Warren was going to be in prison or not. A package comes for Dean at the Baker's, and he is shocked to see it is the jacket he tried on for Georgina, though everyone else believes it is from Lucy. Steven stirs things by suggesting Dean has a secret admirer, just like Conor being Zoe's, adding how he saw him going through Zoe's knicker draw. Before Conor can defend himself Zoe bursts in having heard and gives Conor a slap, before telling him she wishes he'd stayed away and tactfully adding why doesn't he just go back to where he came from.
Warren and Mandy are ready for court, but Warren warns her against wearing a hot watch which she thinks no-one will notice. Conor begs Sean and Vincent to tell Zoe the truth about the initiation as she now thinks he is a perv, but Sean slyly tells him this is his own mess. Warren informs Mandy that Frank won't be speaking for him in court today, which she is disheartened to hear as Frank speaking was a good shot of getting Warren off. Lynette is questioning Dean about his jacket, saying she didn't think Lucy had that kind of money to spend. Lynette then adds she caught sight of the card and saw it was signed 'G' with kisses. Conor then comes in and awkwardly asks Lynette to speak to Zoe, while Dean spills that the boys made him steal Zoe's bra as a challenge.
Warren's barrister Mr Higham meets Warren and Mandy at the court with Brenda, Warren's probation officer. Lynette tries to reason with Zoe that the boys made Conor do what he did, but she is not ready to forgive. Dean tells Conor to go with the story of how he bought the jacket, and to tell the lads this too. Conor's mind is elsewhere however, as he gazes at pictures of his family on the wall. Mr Higham tells Warren to go into court with the right attitude. Dean answers the phone to Georgina, and gives her a mouthful about not sending him gifts to the house again, and hangs up before seeing Lynette has heard everything. To ease his conscience he then phones Lucy and tells her he wants to spend time with her. From the dock Warren is asked how he pleads, and he replies guilty.
Des sees that Conor is still at the house and says training must have started by now. Conor makes an excuse but Des says he'll drive him in. The lads are working on their upper-body strength, and Sean jokes to Vincent that Warren has probably chinned the judge. Frank has noticed Conor is absent. Des and Conor arrive at the training ground. Des can tell there's something wrong with Conor, and assumes he is homesick, adding it must be worse with his home being so far away. It is Des' reassurance that gives Conor the strength to head in for training, though Frank is not as sympathetic. It seems that Mr Higham is the last to know that Frank won't be speaking for him in court, and tries to contact him to get him to come. Mr Higham also suggests they use Mandy as a sob story - how she needs Warren for financial support and could be on the streets with her baby if she can't afford the flat with Warren inside.
Frank talks to Conor in his office about how he needs to get it together both on the pitch and in his mind to make it work here. He adds there are worse managers and players out there compared to the ones he is with here. Frank scratches the surface as to whether Conor has settled in OK, but Conor won't let anything out. Brenda gives evidence of how Warren being at the club has turned his previously hectic life around, how he also supports his step-mother and her baby, and yesterday met up with Doug to offer an apology. Conor arrives home to Dean asking will he be out of the room tonight as Lucy is coming round, followed by Zoe slinging a pair of his briefs at him adding now he knows how it feels. Mandy takes the stand and is nervous, adding that Warren has been a great help since Kenny went inside. It seems the defence's chances are raised when Frank arrives in the court room. Frank takes to the stand and gives a passionate defence of Warren calling him a really inspirational player and so determined.
Lucy arrives at the Baker's and is surprised to hear from Lynette that Dean has cooked for her. Frank tells the court that although Warren hurt Doug it will hurt Warren's life a lot more to send him to prison, when he has worked so hard to sort himself out from the tough upbringing he had. Frank's words seem to do the trick, as Warren walks free from court with a sentence of 70 hours community service. As she waits for Dean's meal, Lucy comes across the coat Dean tried on with Georgina, but Dean needn't worry, as Lucy automatically believes he bought it himself. Lucy is worried that Conor will walk in on her and Dean making love, but it seems neither of them have noticed Conor has removed all his pictures from the wall and quietly left.
Notes:
· Best Known For: Annelies Lovell had a long history working behind the scenes on "The Bill", ranging from actress to stage manager, through to stand-by art director across several years. Among her career, Michelle Joseph had a prominent role as one half of "EastEnders" first lesbian couple (and even takes the title of the show's first regular lesbian character) hairdresser Della Alexander from 1994-1995. In his career of more than 50 credits, David Kennedy has had roles in "Trial & Retribution" (1997-98), "London's Burning" (2002), "William and Mary" (2003-05), "EastEnders" (twice: 2002 & 06) and for the last several years has played the regular character of Dirk Savage in "Hollyoaks" first appearing from April 2011.
The Best: Des taking the time to notice all was not right with Conor, and his likening of Conor's misery to the Dragon's losing the semi-final cup a few years back, with a Frank Stapleton goal in the last minute of extra time, and how big blokes, some with tattoos cried. Warren taking off in the courtroom canteen, to catch up with a bloke who knew his father, and everyone's look of anguish.
· Quotes: Brenda to Warren and Mandy: "Hows Kayleigh?" Warren: "We left her at home with a box of matches!".
Foreshadowing: Des and Conor hear Lucy give the latest over the radio on how the still vacant manager's job has now been linked to television pundit Andy Gray. Des is certain that if Andy was going anywhere it would have been Everton. Gray is later connected to Harchester in a big way in 249: Missing.
· Additional Info: In court, Warren gives the address of his flat as 94 Gatesgill Tower. He has been charged under the offences against the person act, that on 19th August 1997 he inflicted actual bodily harm on "Douglas Terrence Hastings". Mr Higham describes Warren's adolescence as "abandoned by his mother as a child, and brought up by a father where the practice of crime was the norm".
Soundtrack: Sheryl Crow: "If It Makes You Happy".